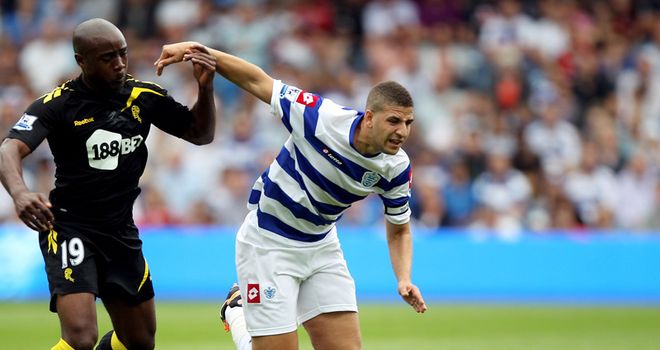 Neil Warnock has defended Adel Taarabt following the playmaker's reaction to his half-time substitution in Queens Park Rangers' heavy 6-0 defeat to Fulham on Sunday.
Taarabt
was reportedly photographed leaving Craven Cottage at the interval after he was substituted, although the Moroccan has told Sky Sports News that was not the case.
QPR boss Warnock has also denied allegations that the pair argued, insisting he was not bothered by Taarabt's behaviour.
Warnock told The Independent: "It doesn't bother me. The dressing rooms at Craven Cottage are in one corner of the ground, the bench is on the halfway line on the far side of the pitch. I'm not going to insist he walks 60 yards just to sit and watch us lose."
Rangers
were already 3-0 down before the manager sacrificed both Taarabt and Shaun Derry in a bid to plug his leaking defence.
"At half-time I was more concerned with my defence," continued Warnock. "I said: 'Dessie, you're off, and you are as well Adel.' That was it.
"People talk about him storming off. I didn't even know he'd gone. And he certainly didn't go to the pub for a pint as some have reported - he's a Muslim and doesn't drink.
"They want to be careful he doesn't sue them for saying that."
Meanwhile, fellow substitute Derry stayed to watch the remainder of the match with Warnock highlighting Taarabt's temperamental track record.
"They are different people" added Warnock. "Adel is young and emotional. He does these things.
"Last year he said he'd never play for Morocco
again after he was made substitute in a game. Guess where he is now? Heading for Morocco to play for them.
"I'll see him at training when we get back and, with the rest of the team, we'll start preparing for the next match at Blackburn. My main concern at the moment is which defenders we'll have fit and available, not Adel.
"You're going to get days when Adel throws his toys out of the pram, that isn't a worry for me, I'd have more problem if someone was happy being subbed."