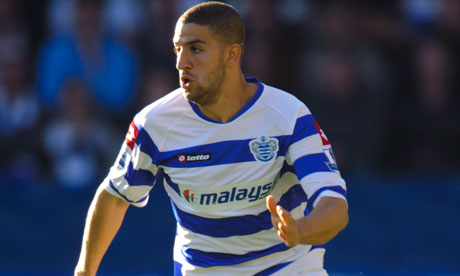 The Queens Park Rangers manager Neil Warnock believes Joey Barton's comments about team-mate Adel Taarabt were a "little bit out of order" and will speak to his captain about them.
After Saturday's 1-1 draw with Blackburn, Barton told Absolute Radio that the Morocco international needed to buck up his ideas. The former Newcastle midfielder also admitted he has yet to see Taarabt's so-called "genius", all of which Warnock feels was a bit harsh.
"What he is saying about Adel I think is a little bit out of order," he told ESPN's Between the Lines. "I think there is one or two lads in the team at the moment that could do better so sometimes you look elsewhere.
"If he wants Adel to chase about and tackle and run, he is never going to be able to do that."
Asked if it was Barton's place to make such comments, Warnock retorted: "I've not spoken to him. You're just telling me what has been said. I'll probably have a chat with him [today] and see what he actually said."
QPR face a tough run of fixtures starting with a west London derby against Chelsea at Loftus Road this Sunday. They then face a trip to Tottenham before welcoming Manchester City, against whom Warnock believes Taarabt could prove the difference.
"If you looked at what Adel is not good at, you wouldn't touch him with a barge pole," he said. "You've got to look at what he is good at and we would not be where we are now without him, without me looking at what he is good at.
"Yes, he might not be able to crack it in the Premier League. Even Adel doesn't know that yet. He is only a young lad. You forget he is a young kid really.
"I think he is trying very, very hard at the moment and the next few games will be interesting. I think when you're playing the top clubs you need that something special to win you games.
"We've missed his contribution goal-wise and hopefully, if Joey plays really well and some of the other lads play really well, the opportunities for Adel will come."
He added: "If Adel gets an opportunity and plays well he is an asset to anybody in that league. Yes, he has not scored in the Premier League yet, he has not set the world alight but he has had opportunities and I think [he will continue to do so]."