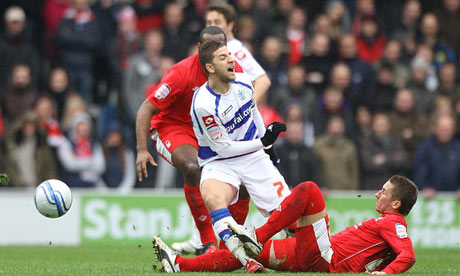 QPR
fans went to Loftus Road at the weekend expecting to learn whether Neil Warnock's team really is set for automatic promotion. A win against
Nottingham Forest
– who'd won their six previous Championship games and are unbeaten since a 1-0 loss at Leicester in November – and the Rs would surely be mentally celebrating promotion. A loss and the race for the two automatic slots would have been wide open, and Forest would have become favourites for the title. But a 1-1 draw against a side who sat back and soaked up pressure after having a man sent off? It told us next to nothing.
Instead we're still pondering these questions:
1) Are QPR a one-man team?
Back in
August
I wrote on this blog
that Adel Taarabt was so dominant it raised worries about where QPR would find inspiration in his absence. Astonishingly, he hasn't yet been absent, and his dominance has continued: he tops the division's assists table, with 12, and he's the third leading scorer, with 14, half of which could be used to compile a personal goal of the season contest. The QPR team is built to serve him, and he has rewarded Neil Warnock's faith in him a hundredfold. Inevitably, though, teams have decided that if they stop Taarabt, they stop QPR. Derby and Hull succeeded spectacularly at nullifying his threat on their own grounds, but they couldn't beat QPR – and for all the "wheels have come off" doom-mongering in December, Rangers have still only lost three. What's more, the loan signing of Wayne Routledge from Newcastle has given Rangers a second creative attacking option for the surprisingly few days when Taarabt's mind is elsewhere, and so far he's made a decisive contribution to two games, scoring the winners against Reading and Coventry (
the latter assisted by something astonishing from Taarabt
). Only a fool, however, would deny Taarabt's astounding influence on the course of the Championship this season. So, a one-man team? Sort of: but he couldn't be that one man without the work of the other 10, who understand their job is to help him shine.
2) Is Neil Warnock any good with strikers?
On the evidence of this season, no: or at least he doesn't play a system that allows them to flourish. QPR play a system with a lone forward at the front of a 4-2-3-1, and the 1 in that formation has scored just four goals, excluding penalites. Rob Hulse, who shares the position with Heidar Helguson, has started to draw the ire of the Loftus Road crowd. That's not so much because of his scoring record – just the one goal – but because he isn't winning the headers or holding the ball up in the way his physical presence suggests he should. What's more, his size encourages the team to hit the ball high and long, when the best football QPR have played was earlier in the season, with the shorter Helguson upfront. With a smaller target, the ball was played to Helguson's feet more often, enabling him to hold up play and bring the three midfielders into the picture. Jamie Mackie, in particular, benefitted from Helguson's presence. Ishmael Miller, a loan signing from West Brom, has done nothing in the centre-forward slot yet to suggest he's any better than Hulse, though he troubled Forest when moved to the right wing in yesterday's second half.
3) Is QPR's defence too brittle?
This is one that baffles the W12 regulars. Steve Claridge, on the BBC, has criticised the Rangers defence several times (in fact,
he seems to make a habit of criticising QPR
) – but it's the tightest in the division by far, with 19 conceded (Forest are the next best, with 24). Paddy Kenny has been revelatory in goal, and the four in front of him have been consistently solid. It's not that there are no issues: the central pairing of Kaspars Gorkss and Matt Connolly are decent on the ball, but lack pace and are too happy to let the ball bounce. They'll be punished in the Premiership. And the full backs – Clint Hill and Bradley Orr - will surely see their deficiencies exposed. In fact, we caught a glimpse of that in the home game against Portsmouth, when Orr was targeted as a weak link and given a torrid time before Rangers eased into a lead they then never looked like surrendering. But for the Championship? There's no question: this back four is by far the best in the division.
4) Can QPR afford to miss promotion?
In a word, no. The journalist Dave McIntyre, who supports QPR and has covered them for many years, recently
offered a succinct explanation on his excellent blog
. The long and the short of it is that QPR owe their owners £10m, and that money's due. Without promotion, there's no way to repay it. Still, we at Loftus Road have spent a decade and a half understanding that every silver lining has a cloud.